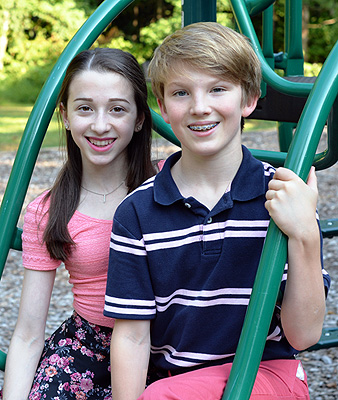 About Eliana: Eliana started skating at the age of five in a learn-to-skate program. Eliana loved skating and especially ice dancing.  One of her coaches asked her to try-out for the Wheaton Ice Skating Academy (WISA) and she skated there for one year before she and Ian were matched up.  Eliana was named as a recipient of the 2014 Athlete Alumni Ambassador (3A) award. The 3A award is a scholarship program that recognizes skaters who have achieved figure skating excellence while actively volunteering.
About Ian: Ian learned to skate on a frozen puddle in his back yard.  Ian started as a freestyle skater at the beginner level before a judge recommended WISA to him.  He and Eliana were paired up soon after he joined the Academy.  Ian is a 2014 and 2015 Michael Weiss Foundation Scholarship recipient.
Their partnership:  Eliana and Ian became an on-ice duo when their coaches paired them prior to the 2009/10 season.  Eliana was eight and Ian was nine.  During the 2010/11 season, Ian and his family spent nine months in France, so the team did not compete.
Training:  Eliana is a member of the Pavilion Skating Club of Cleveland Heights, OH, and Ian and is a member of the Washington Figure Skating Club, the team trains in Wheaton and Rockville, MD.  They are coached by Alexei Kiliakov, Elena Novak, Dmytri Ilin, and Ramil Sarkulov. They also work with Marat Akbarov (spins), Yuri Nikitenko (ballet), and Tatiana Abiyakiy and Natalia Korikova (performance).